There are a few ways in which you can instantly change the outward appearance of your home. Many individuals struggle with newer built developments and their assumed lack of character. To alter the appearance of your home to add more character can easily turn into a hugely expensive undertaking.
We were asked to design and install new hardwood porch supports for this house in Crewe. Again, the design of the house was standard and one of many identical-looking on the estate. Our clients wanted to introduce tailored character to their home and they felt a new wooden porch would be ideal.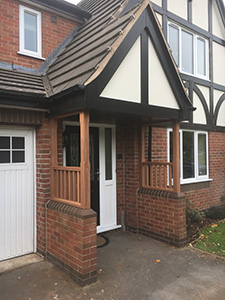 We used Sapele Hardwood and created the design with our clients. The design was based on their requirements and vision. The job went perfectly, and the end result was exactly what they wanted.
For a straightforward and cost-effective alternative, the statement created with the natural wood supports was well-worth the investment. We have also completed similar projects for wooden porch supports in Middlewich and Holmes Chapel. This is fast-becoming a really popular home improvement alternative.
Did you know?
We carry in stock some of the exact matching supports for these houses. This means that the process from enquiry through to completion of the project is fast and efficient. The wood products we use are of the highest quality and will stand the test of time.
Get inspired with images of our bespoke joinery projects and if you would like to enquire about porch supports or a new porch design please call today on 07887 987427. The options really are limitless and invite your input for the design. Our client's experience in dealing with Squirrel Joinery is really important to us.
This job provides evidence of how a simple idea can really transform your home frontage. Introducing natural products works to soften the appearance and add sophisticated character.