Further to completing the wooden cupboards in bedroom 1 in Tarporley we were then asked to complete more bespoke furniture for bedroom 2.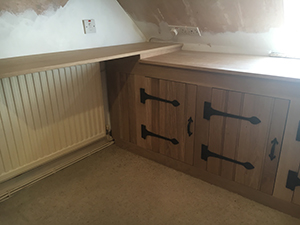 The approach to this job was slight different as the bulk of the units were low level. All of the measurements for the framework were the same as bedroom 1. The doors were of the same construction, however, the units were designed so they could be used for computers as monitors.
There was also a focus on creating valuable storage in the room as well so this was considered carefully during the design process.
Each and every job is approached individually. We select a variety of different wood types depending on the customer's personal preference and usage. It may be that our clients have a specific look they are seeking to achieve. Selection may be defined by durability, grain pattern and general appearance.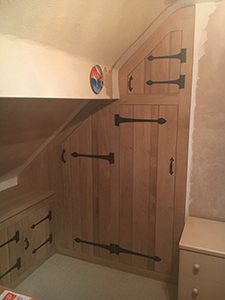 Having fitted wardrobes is a wonderful and practical way to give your bedroom an elegant look as well as satisfying the requirement for storage. The beauty of our products is the charm they offer.
Our experience and skillset mean that we are able to work with you in order to create an individual design that will provide solutions to all of your storage needs. You are able to choose your style, material and design. This is the only way of creating a completely unique product.
We aim to schedule appointments and fitting around your existing schedule. We will aim to be accommodating and we work quickly and efficiently to ensure disruption to your home or business is kept to a minimum.
To learn more about the joinery work that we have completed or about our Company please call Squirrel Joinery on 07887 987427. We will offer support from the point of enquiry through to completion of the work and beyond.