We were invited to quote for this particularly special joinery job in Alderley Edge. Our client wanted to renew all the decking, landing and hand rails on the external stair case of their home.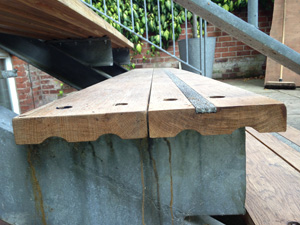 We make sure to take the time to discuss all aspects of the job; our customer voiced a problem with his old decking as it had grooves in the face which held all the grime, even after power washing and it made the steps very slippery.
We advised to make the wooden decking smooth on the face so it could be cleaned easily. We also decided to fit grip strips on the treads so it eliminated any slipping during the winter months.
We made the deck boards out of solid oak and selected an appropriate section to stop any cupping with relief grooves on the underside. The overall section was 155mm x 33mm. They were bolted down to the metal sub-frame with 8mm galvanised bolts to stop any rusting.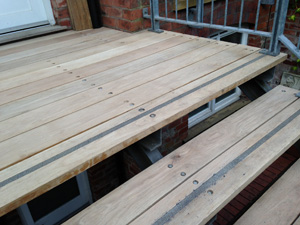 Each and every element of our joinery work is carefully considered in order to achieve the best possible result that will not only look great but it will be long-lasting and functional.
Our customer is going to oil the oak himself; we provided him with the best-available wood oil. To ensure that he was completely satisfied with the wood finish we oiled the bottom two steps.
From our initial consultation we discussed the design of the wood stairs. This ensures that we achieve a bespoke design which is fully integrated with each clients' individual requirements. Our client was extremely pleased with the result!
If you have any questions about designs for bespoke stairs we invite you to call on 07887 987427. Squirrel Joinery; your first-class specialist joiner.