Part of the service that we offer is a bespoke and tailored approach to our clients' requests. This makes sure that the results and finishes that we achieve will be best suited to their individual tastes.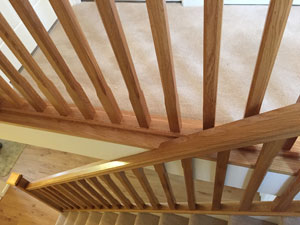 We replaced the stair string in this house in Sandbach. The stair components that we fitted was the final piece of a jigsaw that involved a full house renovation.
We replaced the old 3 white plank balustrade system for a modern solid oak staircase which offered a dramatic effect to the class and aesthetic appeal of the property.
The newels are 95mm x 95mm square with caps and the handrail and base rail complement the 41mm square chamfered spindles.
On the landing at the bottom we fitted an extra 170mm x 25mm solid oak plank as the thick landing carpet would have swallowed up the detail on the base rail.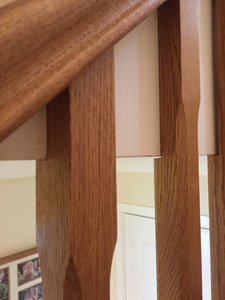 Generally when the old 3 plank stair system is fitted there is not enough room for a full handrail to pass along the bulkhead of the landing so we carefully trim the wooden handrail and spindles around them, thus saving reducing the landing and installing more trimmers.
We have always found this to be the best way around the problem as it is generally about 5 spindles which need to be cut this way.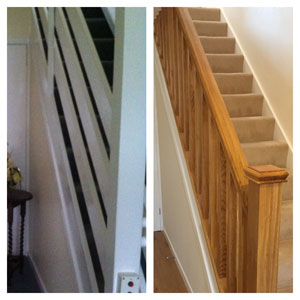 The stairs were finished in our favourite oil which gave a brilliant wood finish for another happy customer.
The picture to the left shows a before and after shot which speaks for itself. The transformation created a staircase that offers timeless and classic appeal.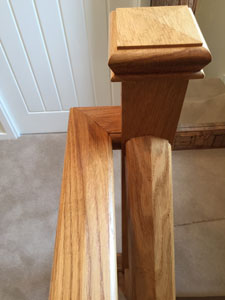 If you are tired of your old-fashioned and aged stairs and are looking to modernise them, then please feel free to contact Squirrel Joinery on 01477 668563.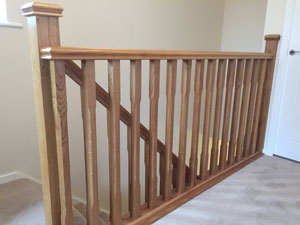 We will work incredibly hard to make sure that we offer a bespoke design to achieve a transformation that will create a real statement for your home.