There are many ways that we can create statements in our home. These statements can show our personality and create attractive uniqueness.
On entry to any house the stairway is an insightful and creative way of tailored design.
We recently fitted this oak staircase for a customer in Holmes Chapel with new hand rail, base rail, spindles and newel caps to their existing staircase.
We used the fashionable 41mm fluted square spindles and a modern wide handrail to make this staircase a show piece once more.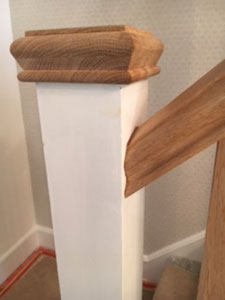 The newels were left as a painted feature so to match up with the rest of the newly decorated house and as you can see it has worked really well.
The customer was really happy with the results and we went on to fit solid oak doors throughout the house.
This tied together the interior design of the house and offered a sophisticated look. We produce the finest products and offer the highest standards.
How is this managed?
We use the highest grades of materials
We use traditional methods with modern technologies
We facilitate continuous improvement
We aim to offer unrivalled quality
We offer transparent and competitive pricing
Oak stairs can be crafted around your ideas and there really is no limit to their design. A new staircase can quite literally transform your hallway.
We are exceptionally fastidious about our approach to joinery. We feel strongly that it is an incredibly important trade; too frequently is it seen that wooden products are created quickly in order to reduce production costs and increase profit. This is not true joinery. Time invested and taken on wood products will inevitably produce a superior result.
If you would like to find out more about our joinery services or would like to discuss oak staircase designs we invite you to call 07887 987427.