As part of the loft conversion project we were asked to fit a new staircase leading up to the loft room. This included handrails, base rails and spindles. On discussion with the homeowners it was decided that the first floor handrail and spindles should also be replaced so that the whole house matched.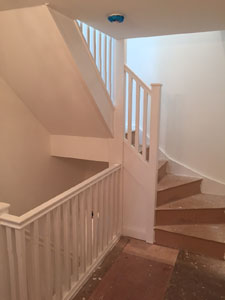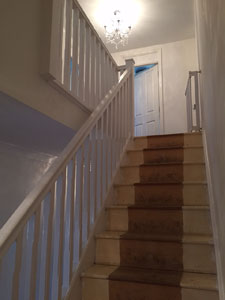 The end result reflected the high standard of finish that the homeowners had applied to the rest of the house. It is easy to see that a house becomes a home when the space is adapted and personalised to get the most out of the rooms.
We fitted new doors to the hall and landings; these have to be fire doors so we used self-closing hinges to stop the doors being left open. Unlike any other system these can be adjusted so they close gently. This is often important when fitting new doors to a home with children.
At Squirrel Joinery we specialise in made to measure staircases and we have had many years of experience in the industry which allows us to offer high-quality wooden staircases. Our goal is to produce the finest quality product at a competitive price.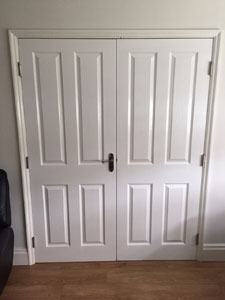 There is such a huge variation in styles for stairs and these fit both traditional and modern homes.
Staircase designs can be tailored with the use of different types of wood, different thicknesses of wood, glass, metal and space saving staircase options.
We will always take the time to discuss your options and will offer advice that we feel will help to benefit the project. It is incredible now a new staircase design can transform a hallway instantly.
Bespoke staircases require a skilled and calculated approach and we are immensely proud to showcase the work that we have completed.
If you would like to enquire to make a no obligation quotation please call on 01477 668563 to arrange a time that is convenient for you.