Wood gates are stunning and provide additional security and look incredible. There are many options available as far as design and wood choices go; if you are deliberating getting entrance gates made for your home or business we invite you to call Squirrel Joinery.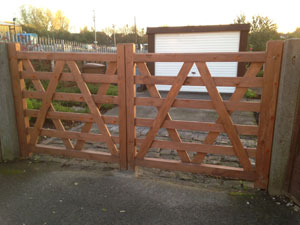 We will discuss your options with you and will take the time to make sure that you achieve the right design that is long-lasting.
These gates are made out of pine and were finished with clear preservative and golden timber stain. They were made to measure and we decided that as they were regularly opened and closed, it would be better to use adjustable gate hinges.
This enables the wooden gates to be adjusted should the years of weather and use cause movement. For additional security the gates were fitted with a hasp and staple to accommodate a padlock.
If you would like to discuss your options please call Andy on 01477 668563 or 07887 987427 to arrange a no obligation quotation.