It is coming up to that time of year where we are all starting to think about venturing outside again after a cold winter. With that comes the thought of outside entertaining and time outside in the garden with your family.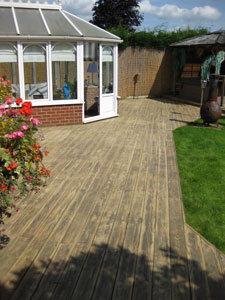 This is the time of year where we receive a large number of enquiries about installing wooden decking. When installed properly and maintained correctly a wooden deck can last a lifetime and will offer a striking addition to your garden.
One of the best things about installing a garden deck is the ability to create a bespoke design that matches your garden, your design preference and material choice. We are able to provide a professional joinery service to create the perfect deck for you.
Whether this is a sweeping design that joins a formally unused part of your garden or a modern space that will compliment your existing garden; we will offer valuable advice to get the most from your design.
Another element to consider is also budget restraints as different types of wood can be used to ensure that you keep within your intended budget.
We are installed many different deck designs throughout Cheshire, many of which have transformed the space into a multifunctional and beautiful sanctuary for their owners.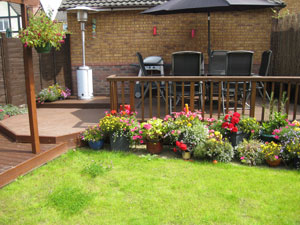 If you would like to discuss your options we would be happy to offer information in order to achieve your desired design.
Please call today on 01477 668563 to arrange a no obligation quotation. The quotation process is a brilliant opportunity for us to discuss the details that will make a real difference to your wooden deck design. From that point we will issue a formal quotation that will outline the scope of works.
Once agreed, an expected start date will be set and we will keep in contact leading up to that time in order to ensure the smooth running of the process. Don't delay – call today!