We recently undertook two jobs laying laminate wood flooring of the same style in Holmes Chapel and Acton Bridge in Cheshire.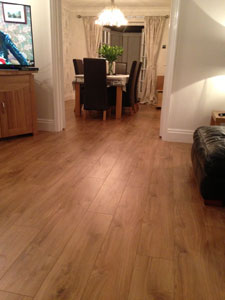 The first job that we completed was part of a full house refurbishment project in Holmes Chapel. We discussed in detail the options available for laminate flooring and it was decided with the client that we would use a high-quality 12mm thick oak faced board.
The owners of the house had three young boys who are all football mad. This ensured that the laminate floor was hard-wearing and durable over time. We also took the skirting boards off and replaced them with new ones; these were then finished with a white gloss paint. A perfect contrast to the striking natural wood.
The second job was for a kitchen and lounge area in Acton Bridge. On this occasion a laminate floor was selected because of the usage of the rooms.
Putting a real wood alternative would not have been best-suited due to the likelihood of possible water damage.
We showed our client the results from the Holmes Chapel job and so they were more than happy to follow our advice and were ecstatic with the results that were achieved.
It is important when you are choosing what type of wood floor to fit that you are well-equipped with all the necessary information. More and more people are choosing to fit a laminate floor as opposed to a solid timber alternative and there are varied reasons for this.
The first reason is that there is an extremely wide range of timbers available to suit any room. Wood finishes are very individual so this forms an important element.
They are more-suited to lay over old existing floors like concrete. Laminate is multi-functional and a really versatile wood flooring.
If you would like to find out more about laying laminate in your home or business please call our friendly staff on 01477 668563.