Wood Floor Installation Cheshire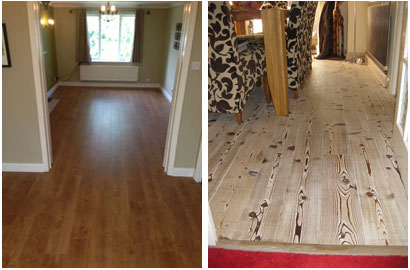 Squirrel Joinery prides itself on the quality of fitting engineered wood, laminate wood, bamboo and parquet flooring.
Wood floors offer a timeless and striking floor covering that is not only incredibly attractive but practical too.
There is a huge variation in types of wood and types of fitting, which offers you the ability to achieve a truly individual look for your home or business.
If you have any questions about installing wood flooring or your choices in wood types, Squirrel Joinery are happy to discuss your options and will make sure that you are confident with the choices you make.
Solid wood flooring is milled from a single piece of timber. This floor type is warm underfoot and has built up a reputation for ultimate high-quality. It is brilliantly practical and will undoubtedly last a lifetime with the right advice on care and treatment.
Hardwood flooring ages elegantly and is well-suited to busy areas of the home. It is available as pre-finished and unfinished boards. Pre-finished boards are quicker to install as they do not require sanding or finishing. Unfinished boards are slightly more labour intensive but a superior seal can often be achieved with this choice.
Engineered Wood Flooring:
These wooden boards are constructed out of multiple layers of wood, glued and compressed together. The process has been tailored and improved over time; engineered floors are now incredibly stable and long-lasting.
The one benefit of this flooring type is that it is less likely to expand and contract as solid wood flooring does with fluctuations in temperature and humidity. They are also well suited to under floor heating systems.
Different types of wood will be better suited to different areas of your property and varying grades are available; your choices can be tailored to your budget, whilst making sure that you get the best fitted and most suited choice.
It may seem that there are many choices available but our experience has allowed us the benefit to offer information and advice that will make sure the right choices are found to suit your property.
Wood floors are arguably the most attractive and versatile flooring choice; we look forward to the opportunity of working with you.
New, up-to-date, flooring can improve the value, look and feel of a home or business greatly. We provide a comprehensive professional service involving the following prior to starting the work;
an in-depth and accurate site measure
information and advice about the services we provide
a no obligation quotation