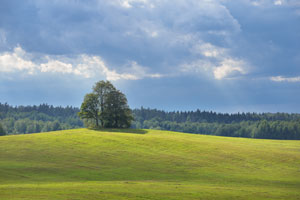 Many people ask us about which grade of oak is suitable for any particular job. We hear so many stories about customers being incorrectly informed with regards to detail about oak. This cheaper oak may not even be suitable for internal work.
I have myself been to look at some oak; I was informed that it was thoroughly dried out and ready for joinery work when it clearly was not. Hopefully this guide will help you select the correct oak for your needs.
FRESH SAWN OR GREEN OAK
These two names refer to the same thing which is oak that has been recently felled and is still soaking wet. It is used for fencing and/or when the timber is partly underground. This timber has not been dried at all. The moisture content will therefore be around 70%.
AIR DRIED AND STORED OUTSIDE
This type of oak is generally used for outside work where heavy sections are involved for example 8″x8″ or 200mm x 200mm. It should have been felled for approx 5 years some of the pieces will have splits in them where they are starting to dry out.  Logs for fires are usually air dried. The typical moisture content is approximately 50%.
AIR DRIED AND STORED INSIDE
This type of oak can be used for entrance porches and in some cases internal joinery like mantle pieces, beams or cladding (covering over) steel beams if you are happy with the timber splitting and gaining the aged look over the years.
The effect of a mantle piece which has aged by heat from a fire or radiator can be fantastic. The splits (sometimes called shakes) can be filled with different coloured filler or even glow in the dark filler which charges itself up via natural sunlight.
The typical moisture content is approximately 35% and should have been felled for about 5 years and stored inside for a further 2 years.
KILN DRIED OAK
This is used for internal joinery for example doors, skirting, architrave and furniture. It has been fully dried out to approx 15% moisture content and providing it is not in direct sunlight or directly in front of a fire or radiator it will be fine for years to come.
Please note: KILN DRIED OAK is approximately double the price of the other options as it has gone through the drying process electrically.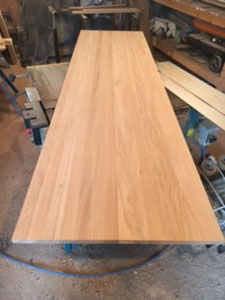 Timber which is more than 4″ (100mm) thick can not be classed as kiln dried as the heat from the kiln will not get through to the centre of the timber.
If you are unsure what you you are buying always ask your supplier to show you the moisture meter reading on the timber. The moisture meter reading should be taken from the centre of the plank NOT THE ENDS and the prongs pressed in firmly.
The moisture percentages stated are just a guide, it is possible to have two pieces of timber stored exactly the same with slightly different moisture readings. It is important that you are well-informed so that you are confident about purchasing oak.
Oak shelving is something Squirrel Joinery are more than happy to provide for you we have several options for you to achieve your perfect project.
COMPRESSED OAK
This is a series of narrow oak strips compressed together to form a wide panel. The advantage of this method is you can achieve a wider plank
The sizes of these are 600mm wide x 18mm thick and are 2200-2400mm long ( 2ft x 8ft x 3/4″)
OAK PLANKS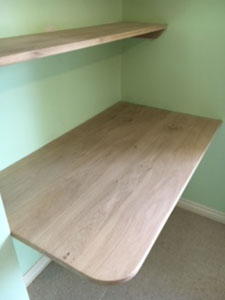 The key to a successful joinery project is simple; it is the use of quality materials. Not only will this make the project look better, but it will make sure that the product is longer lasting. It really is worth investing in a higher grade oak board and these can be tailored in a few different ways in order to meet your budget requirements.
If you have a question about oak planks, the cost or you would like to request a quotation please call Squirrel Joinery on 07887 987427.
22mm Thick:
We can also offer thicker oak planks which are finished at approximately 22mm thick. Singularly they are 180mm wide but they can be glued together to form any width you require.
We recently transformed a corner of a bedroom into a study area with shelves and a desk top, the customer was really pleased with the results.
40mm Thick: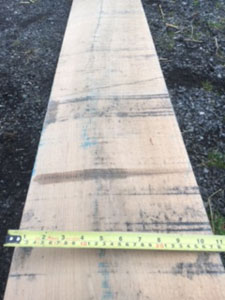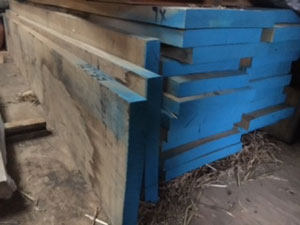 If it's an even thicker section you require we have in stock 40mm thick oak.
We have waited a long time for this to come into stock and are really pleased with the quality.
The planks are prime quality and wide widths (wide planks are really difficult to get hold of) they range from 200mm to 350mm (8″-14″). These can be used to form amazing shelves or be part of a bespoke project of your dreams.
This photo is to illustrate the width and the plank is rough sawn.
A real benefit of sourcing your oak from a local, small Company is the fact that you will receive a bespoke service. There is much more likelihood that we will be able to tailor our products to your exact requirements.
We will always do all that we can to ensure you receive the best-possible materials and incredible results, without exception.
FLOATING SHELVES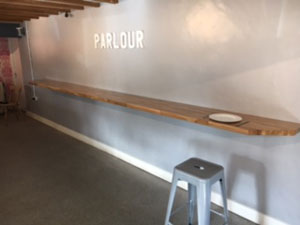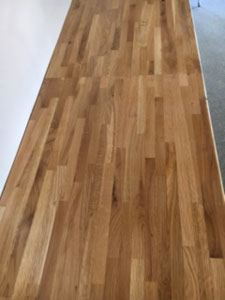 Floating shelving can look absolutely stunning; with the best materials and secure installation they can last a lifetime. They will age naturally and will often gain character as they are used regularly.
We recently did an oak floating shelf in toft which was made from solid oak worktop (standard kitchen worktop 40mm thick).
Please note: It is important to remember that floating shelves need to be on a really good wall especially if you are going to use it practically. It can often be underestimated how heavy oak planks can weigh.
If fitted to non-supportive wall, it is possible that the oak shelf may fall off the wall over time.
COMING SOON… more information on English oak and air dried oak shelves. Have you got a question about anything you have seen? Please feel free to contact us and we will be happy to help with your enquiry.