Oak shelving has always been popular, however, we are seeing a definite resurgence recently. It seems as if trends have altered slightly. Not so long ago interior design was all about clean lines and minimalism.
Home owners are now getting more creative with their interiors. Oak shelves have definitely been part of this evolving trend. This means that individuals are now able to inject their personality into their décor.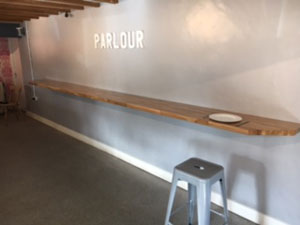 Squirrel Joinery offer a bespoke shelving service. Our requirements are individual so we make it possible to tailor your design to fit specific measurements. This also allows our clients to consider how they will use the storage.
With the recent resurgence of oak shelves the market is flooded with less-than-satisfactory alternatives. This really is an example of 'you get what you pay for'. The quality that can be provided in the use of the correct oak and the way in which it is made is second-to-none.
You will end up with a product that will fit your home, with a carefully selected wood finish and will stand the test of time. Quality oak must be used to produce your shelves. If a lesser product is used then it is likely your shelves will bend and bow over time. This can start to look unsightly and can cause problems when using the shelves for storage.
Have you considered installing an oak shelf in your home? Why should you choose Squirrel Joinery?
The quality we offer is second-to-none
We are a small, family-run business who concentrate on offering a superior service for our clients
We are experienced in all areas of Joinery Services
We will take the time to discuss your options and the alternatives available to make sure the end product is exactly what you are looking for
If you would like to discuss installing oak shelves please Andy today on 07887 987427.