Oak porches can transform the frontage of a property. Not only will it create unique character, it will also add value and appeal to your home. We are all looking for ways in which we can effectively add personal touches to our home and a new porch is a brilliant consideration.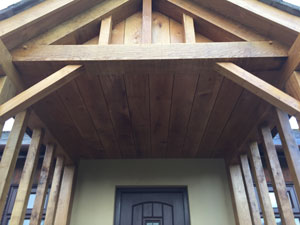 There are a huge range of porch designs available. These range from simple designs to the most incredible constructions. Either way we will help you to create a design that meets your aesthetic needs as well as your budget.
Squirrel Joinery build and craft oak framed porches to your individual requirements. All of this is provided with our exceptionally high quality and standards of craftmanship. Our attention to detail is second to none and this will ensure the longevity of the project.
What is the process for organising your porch?
After receiving your enquiry, we will arrange a convenient date and time to visit to quote for the work
You may have drawn up your own architectural plans or you may want our input into the designs
We will discuss all elements of the project with you and make sure that every aspect of the project is anticipated and considered
We will then arrange a time to complete the work
Our services do not end there; we will continue to offer help and support throughout the project and beyond. This may well be advice on wood finishes to keep your wooden porch looking at its best.
Our skilled carpenters are on hand to help create the perfect result for you. Why not enquire to find out whether your vision can be made into reality? Squirrel Joinery offer joinery services throughout Cheshire. Call today on 07887987427; feel free to view our joinery blog to look at some of our most recent joinery projects.