We were invited to complete a kitchen renovation project in Sandbach, Cheshire. Our client was supported through the process of the quotation through to the start of the work.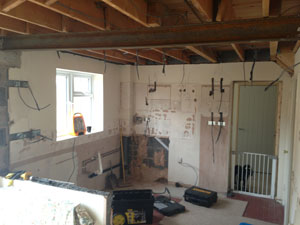 We always look to answer questions promptly as this process is the start of our customer care programme.
When we arrived to start this project we were down to a skeleton shell. We offered a range of services for this kitchen refurbishment. This included creating new openings for doors, boarding the ceilings and boxing in the RSJ's.
Alongside this work we then installed the new kitchen, completed the plastering, coving, plumbing and all joinery work required to complete the job to the highest of standards.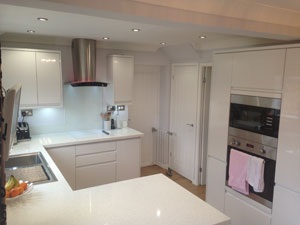 Our customer wanted the "clean look" and a fully functional kitchen to suit all her needs. We went on to replace all the doors and do many other jobs in their home from which she was very happy. At the end if the job they were overwhelmed with the results and the incredible transformation that was achieved.
Kitchen design is very individual; it needs to take into account many factors to allow the result to be fully functional as well as looking great. We are able to offer advice on how best to approach this task.
Home improvement projects can often be left unnecessarily through fear of disruption; we work to guide you through the process and our work is carried out efficiently to ensure that disturbance is kept to a minimum.
If you would like to discuss a joinery project that you're considering we invite you to call us on 01477 668563 for more information. We are committed to delivering first-class results with a focus on customer service.