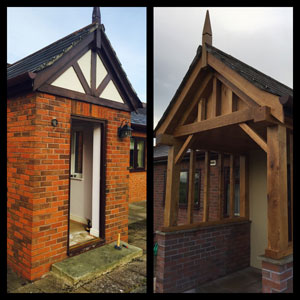 We had a customer in Middlewich, Cheshire who wanted a bespoke oak porch to replace her brick one she currently had.
The reason for the project was to give the property some character and as the process drew to a conclusion; that was exactly what was achieved.
The design was down to a combination of six different pictures she had seen online. Although she had these images, no particular one was perfect.
This gave us the opportunity to select all of the best bits that she did like and offer a bespoke design. This flexibility meant that we were able to come up with a front porch that fitted her exact requirements.
We used 150mm x 150mm oak boards for the main frame with 75mm x 75mm for the centres. We followed suit with the apex and the ceiling was cladded with 200mm x 25mm, half lapped together.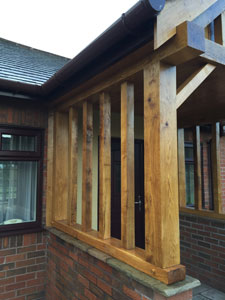 Our client was concerned that birds may nest in her new porch so we also cladded behind the apex. The fascia boards and soffits were also replaced with oak.
To completely finish the design a new front door was fitted, the outside was rendered and the porch floor was flagged.
Together the different elements created an exceptional design and offered character our client once feared would not be possible.
The before and after photo speaks for itself and the customer was over the moon.
We offer other bespoke joinery services; if you would like to find out more please call today on 07887 987427.