We were asked to make some bespoke oak furniture for a client in Tarporley. They wanted the old plywood doored furniture taking away and replaced with something fresh. They made it clear that it had to be in keeping with the thatched cottage look.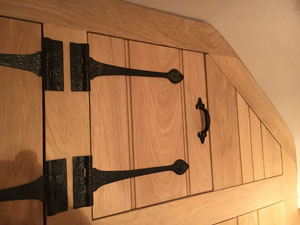 As this was an old cottage we had some fun trying to find a level point to start with and a wall that was plumb. Because of that reason and the fact that the staircase was tiny we jointed the frame work on site. We then took templates and made the doors in the workshop.
The framework was a 90mm x 21mm section and the doors were made up of random width front boards. This was combined with a bead detail and traditional thick braces on the back. The client wanted to leave the project as a bare wood finish. The job looked amazing when it was all done.
This is another reason as to why bespoke furniture is the best available option. Not only can the design be tailored but it can complement the existing décor of your home.
Why Choose Bespoke Furniture?
There is only one way to ensure that your chosen furniture reflects your unique vision and is well-matched to your existing setting. This is combined with the fact that:
You have greater ownership over the entire process
Greater flexibility is allowed with style and design
You have the support of professional guidance
Alterations can be devised in order to suit your budget and individual requirements
It may be that you identify creating a unique piece because you are looking for a particular item that is challenging to source. Or it may be that you have identified a piece of furniture that you are looking to reproduce. This reproduction can be altered so that it exactly meets your vision.
If you would like to commission a bespoke furniture project please call today on 07887 987427.