A returning client of ours invited us to provide a bespoke storage solution for their utility room in Great Warford. They required a tailored design to make sure that they were able to maximise the utility room storage for their family. We worked closely with them to design and provide a space that truly matched their requirements for bespoke furniture.
They also wanted the option to hide away the storage so we designed sliding shaker style doors which finished the project off incredibly. Each pigeon hole was purposely made to suit an individual item of the customer's needs and many wine and pop compartments for his wife.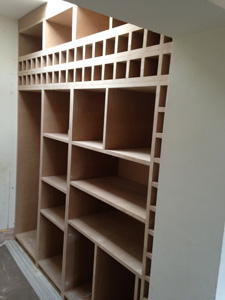 The units went from floor to ceiling and we made one large door on the rear track and two smaller ones at the front of the track. This enabled every part of the storage system to be fully accessible. When closed the doors are all exactly the same size.
This tailored approach is incredibly important to both us and our clients. It provides storages solutions that are matched to differing requirements. It is also a vital way of producing a product that is of a superior finish and design. Altogether a very happy customer.
If you would like to discuss bespoke furniture or joinery services to provide additional storage for your home or business we invite you to call Andy on 07887 987427. We take the time to discuss your requirements, tastes and usage and offer advice to produce a product that will offer both functionality and brilliant design.