It is all too frequent that we receive calls from clients looking for bespoke units as there appears to be nothing available to suit their requirements. Often if your measurements are non-flexible and you are looking for a particular style; bespoke furniture is your only way forward.
Bespoke in its very description is made-to-measure and is created skilfully to satisfy your individual requirements. Dimensions and designs can be tweaked until the ideal solution is identified.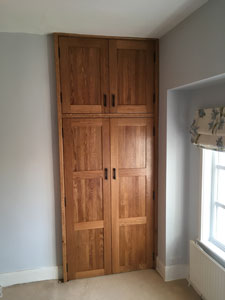 This image shows a unit that was produced for a client in Alderley Edge. They had previously bought some bedside tables then wanted an oak unit to match. They had been unable to find anything that would match or was the right size.
Storage within a home is so important and if storage units can be made in spaces that do no encroach on the room space then that is an added benefit.
We made this solid oak unit with 18mm thick panels in the centre and 70mm rails. It is very common in this day and age to use MDF for panels as it does not curl but by using 18mm it overcomes this problem.
Extra effort was made so that the divide between the top doors and the bottom doors was made a reachable height. The handles were ordered to match the bedside tables and the unit was finished with a beautiful wood oil.
Our client was very pleased with the result. Individuals can sometimes be put off by the word 'bespoke'. Let us reassure you that bespoke does not necessarily mean expensive. Instead it reflects our professional approach to creating unique and made-to-measure pieces.
If you would like to enquire about creating bespoke furniture for your home or business please contact us today via e-mail or by calling 07887 987427. We work hard to offer a service that cannot be surpassed by our competition.