We are a professional joinery Company offering bespoke services for a huge range of interior and exterior pieces.
While working conscientiously to provide an exceptionally high standard of furniture we are always looking to review the way in which we work. Our latest findings have identified an increase in demand for bespoke furniture.
Whilst market trends differ from year to year, bespoke products seem to remain in high demand. This can be due to the fact that there is a link with tailor-made products offering quality whilst matching exact requirements for both size and design.
These items create a unique statement that are personal and adaptive. We like to promote this type of furniture because it allows us the opportunity to show our superior and skilled craftsmanship.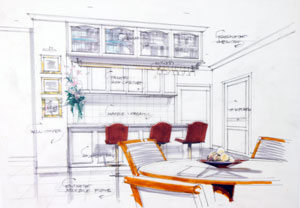 Joinery is a trade that is steeped in history and now allows us to combine the use of traditional methods and modern technology to produce the best possible pieces.
You are able to enquire about our bespoke services through our website or you can call us at any time on 07887 987427.
We have been designing bespoke interiors for over 25 years for our discerning clients to suit their homes and their lifestyle.
We achieve optimum level of style, functionality and design.