The likelihood is that if you are renovating a house or looking to improve areas of your home that you will come across a problem that requires the help of a joiner. We have had the opportunity to complete a huge range of bespoke joinery throughout Cheshire and here are some projects we have completed;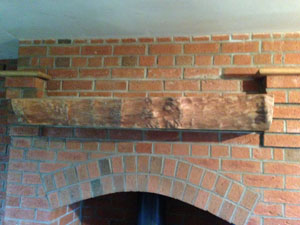 This is a bespoke mantel piece that we created for a client looking to achieve a rustic and traditional feel.
This mantel piece was made out of a tree called London plane which originally grew only in London. It is thought that this tree was a cross between an American sycamore and Oriental sycamore creating the London plane as we know it today. The tree has been cultivated for planting in cities around the world and is now one of the most widely planted urban trees.
From trunk form the timber has been dried out and then sawn in half, the bark totally stripped off and then sanded to a smooth all round finish.
We finally oiled it with many coats of timber oil which allows the timber to breathe and keep its natural beauty. This project was a new build in Arclid, Cheshire and we did two mantle pieces similar either side of the chimney breast.
Below is a home improvement project where we fitted Oak beams to the ceiling in Alderley Edge, Cheshire. The before and after pictures show the difference wooden beams can make to create a cottage-like, traditional feel to a home.
The object of this job was to keep the cottage look without using reclaimed timbers as they are not always straight and true. We decided to go for American Oak and only partially sanded the beams to give the cottage feel. It worked really well; we had to take into account the heat given out by the log fire and we achieved this as the beams remain tight to the ceiling!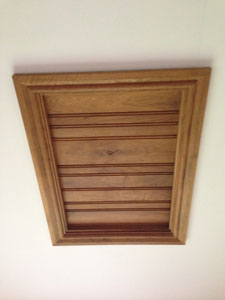 To the right is an example of a bespoke European Oak Loft Hatch that we supplied and fitted in Holmes Chapel.
The loft hatch was created and fitted with matching architrave; it was not in the original programme of work but we had some short left overs from making some doors at this properly so we cleverly decided to use them up to make this hatch with no material cost to the customer.
Below is a stunning solid Oak window board that we fitted in Sandbach. These window boards were hand picked for the beautiful grain they portray, we decided to use thicker (32 mm) timber as it gives the " wow" factor to the property and really catches the eye of guests as they enter the home.
We fitted these to every window base at a house in Sandbach and they fitted in really well with the style of the property.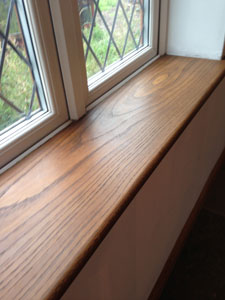 These examples show the many different ways that you can incorporate wood designs into your home or business.
Squirrel Joinery have a workshop where we create all of our designs; we have built up a brilliant local reputation and work hard to provide clients with tailored options that add value, provide solutions to renovation problems and we specialise in all elements of joinery services.
We look forward to the opportunity of working with you and invite you to call Andy on 01477 668563 or on 07887 987427.
Bespoke Furniture Specialists - Cheshire and the North West
Skilled joinery, creative design and beautifully detailed creations by Squirrel Joinery